COVID19 has brought issues that used to be ignored or overlooked into the limelight. One of those issues is the sourcing and procurement function within global supply chains. If you have had the experience of not finding a product you wanted from your favorite brand, it is probably because there has been a failure in the sourcing and procurement process related to one or more components required to make that product.
Sourcing is the process of researching, vetting, building relationships with, and eventually contracting suppliers for the inputs that a company needs for its operations. Procurement picks up where sourcing ends and is the actual process of acquiring and paying for the goods and services that operations needs to satisfy demand for the finished goods and services that a company must deliver to its customers.
Sourcing is tasked with carrying out research, creating and executing strategy, defining quality and quantity metrics, and choosing suppliers that meet these criteria. Successful procurement depends on successful sourcing. Once procurement has occurred, sourcing uses the information generated during the procurement process to perform its vendor assessment and management responsibilities.
THE PROBLEM: SOURCING & PROCUREMENT HAVE BEEN STARVED OF TECHNOLOGY AND INNOVATION
Fundamentally, the problems are these:
First, supplier search, evaluation, and selection are still a highly manual process. This makes the process inefficient, opaque, and prone to errors and deliberate or inadvertent waste.
Second, historically, sourcing and procurement has not been viewed by large corporations as an area in which a competitive advantage can be won and maintained. This means that it has been starved of personnel, technology, innovation, and other resources. This is true in the public sector too – sourcing and procurement have not been seen as strategic functions and so as the crisis has unfolded those teams have been caught flat-footed and incapable of responding adequately given the scale and scope of the crisis.
The COVID-19 pandemic has brought this into stark relief as disruptions caused by widespread lockdowns and the shift to work-from-home, along with occasional government mandated restrictions on exports of certain intermediate products has made it necessary for organizations of all sizes to consider sourcing products and services from vendors that they would not expect to be working with under normal circumstances – The semiconductor shortage that has persisted through the pandemic is arguably the most prominent example of this because of the coverage it has garnered in the news media and how it affects nearly every category of machinery and consumer electronics we rely on at home.
This phenomenon costs companies a lot of money in costs directly related to sourcing and procurement, as well as in lost revenues which cannot be recaptured in the near-term; The cars, and other consumer electronics that were not sold in 2021 due to a shortage of semiconductor chips will never contribute to 2021 revenues and profits for those companies that could not access alternative suppliers once their regular suppliers ran out of inventory.
To estimate the size of the opportunity, we can use b2b payments as a proxy for the value of the products and services that private sourcing and procurement technology and software supports. In B2B: How The Next Payments Frontier Will Unleash Small Business, a September 2018 equity research report issued by Goldman Sachs, the authors state that "Global business drives over $120 trillion of B2B commerce annually – but managing this trade is far from efficient." All of that B2B commerce requires some form of sourcing and procurement. Moreover, the authors also estimate that this B2B commerce will grow to $200 trillion by 2028.
Most B2B commerce happens in person, however the portion of B2B commerce that occurs through ecommerce has been growing, and was estimated at $1.2 trillion for 2021, up from $889 billion in 2017 in the United States.
Corporations spend more on suppliers than any other balance sheet item because procurement is the single biggest cost driver for any organization.
According to Jonathan Webb, in this February 28, 2018 article published by Forbes, How Many Suppliers Do Businesses Have? How Many Should They Have?; "Big businesses rarely publish data on its (sic) supply chains, but a few pioneering brands outline the scale of their supply bases. The fast-moving consumer goods company Proctor and Gamble states that it has over 75,000 suppliers. Retailing giant Walmart counts over 100,000 suppliers. French oil company Total buys from over 150,000."
This is where Stimulus comes in.
STIMULUS: ARMING SOURCING & PROCUREMENT TEAMS WITH SUPERPOWERS THROUGH MODERN TOOLS
Stimulus is a relationship intelligence Software-as-a-Service (SaaS) platform that uses data insights, relationship-building tools, as well as a proprietary score to help companies make the best sourcing, procurement, and purchasing decisions, while optimizing, nurturing, and growing their supplier ecosystems.
The platform is unique because it provides visibility to enable sourcing and procurement teams to analyze supplier data and view actionable insights – helping companies build honest, transparent relationships that lead to better business outcomes.
Stimulus' makes it more efficient for companies to choose the right suppliers, fulfill business objectives including location-based and diversity, equity, and inclusion (DEI) criteria by easily comparing suppliers using relevant metrics and data points, and quickly matching them to available contract opportunities. This gives decision-makers the ability to make the best purchasing decision to build an ecosystem that their organization can depend on at all times.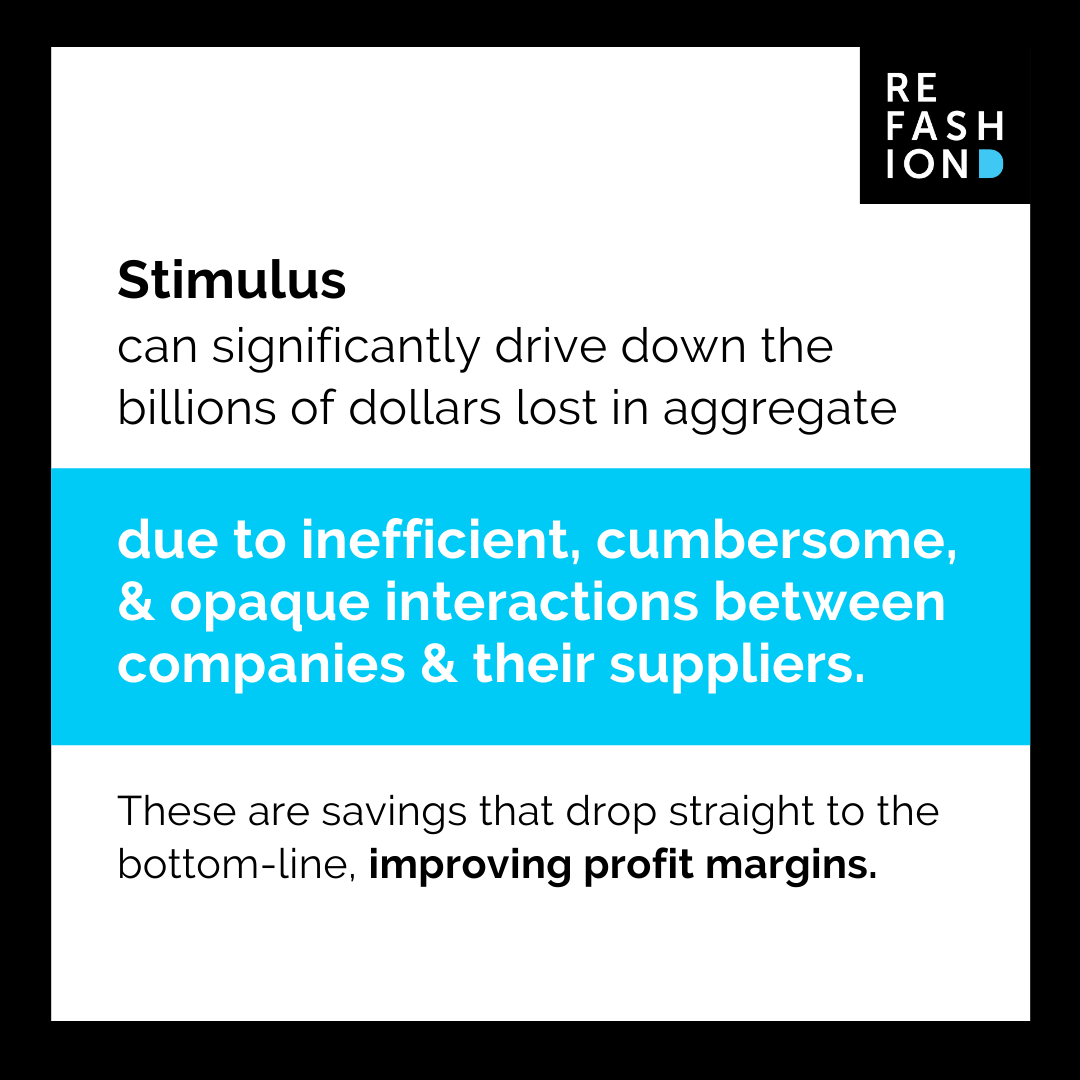 The platform can significantly drive down the billions of dollars lost in aggregate due to inefficient, cumbersome, and opaque interactions between companies and their suppliers. These are savings that drop straight to the bottom-line, improving profit margins.
Over the long term, a platform like Stimulus can:
Increase the productivity of sourcing and procurement departments by a meaningful proportion,
Make it easier for sourcing and procurement professionals to engage in intra- and inter-company collaboration,
Enable sourcing and procurement departments to develop robust, agile, and efficient processes that are fit-for-purpose under both normal and abnormal business conditions,
Develop a robust sourcing and procurement network that meets companies' operational, tactical, and strategic needs, and
Develop payment processes that reduce the amount of financial friction and waste within the system.
According to reports by the management consulting firms, potential savings from a platform like Stimulus could amount to as much as 7 – 12% of the total cost base of a company. Again, these savings accrue directly to the bottom-line.
A TEAM THAT HAS BEEN ON THE FRONTLINES OF SOURCING & PROCUREMENT STRUGGLES
Lisa and I first met Tiffanie Stanard – Founder and CEO of Stimulus, after a flurry of late night texts and emails on June 18, 2019; Tiffanie had somehow just found out about The Worldwide Supply Chain Federation's inaugural global summit, #SCIT2019, which was happening in New York City on June 19 and 20. She asked my friend Jon Gosier if he could make an intro, and if she could attend; Even though tickets were free, the event had sold out weeks earlier, and she did not want to make the trip from Philadelphia to NYC only to discover that she couldn't attend. To cut a long story short, she attended both days of the summit and although we did not get to spend much time together during the event we kept in touch after it ended.
Tiffanie is a former executive in vendor management with over 15 years of experience working with vendors and suppliers for some of the largest publicly traded companies in the United States. She knows that much like customers and employees; the right suppliers can become a company's competitive advantage as they help internal teams deliver products and services on time, and at great prices. She holds a Bachelor of Science in business management and is an expert in marketing, and she brings her previous experience as an entrepreneur to bear as she builds Stimulus.
Ruben Reyes, Stimulus' Chief Technology and Product Officer, brings over 20 years of experience in technology and usability, covering the web, mobile, enterprise software, IT infrastructure, and analytics. He holds a Bachelor of Science in electrical engineering.
Neeharika Damera, Stimulus' Senior Product Manager, brings more than 15 years of extensive experience in product management, delivering software products from conception to launch. She holds a bachelor's degree in engineering and a master's in business administration.
Tiffanie and Ruben met years ago when they each worked on a consulting project with the same large enterprise, working on helping that company tackle some of its sourcing and procurement problems. At the time, Neeharika was an employee at that large enterprise. They kept in touch over the years, and have now brought the band back together to build Stimulus. We believe this gives them a unique advantage as they tackle, a significant part of the opportunity in an area our team at REFASHIOND Ventures describes as #SupplyChainTech.
Their growing team of 10 also includes a Supply Chain Content Manager, a Data Analyst, and an expanding team of engineers.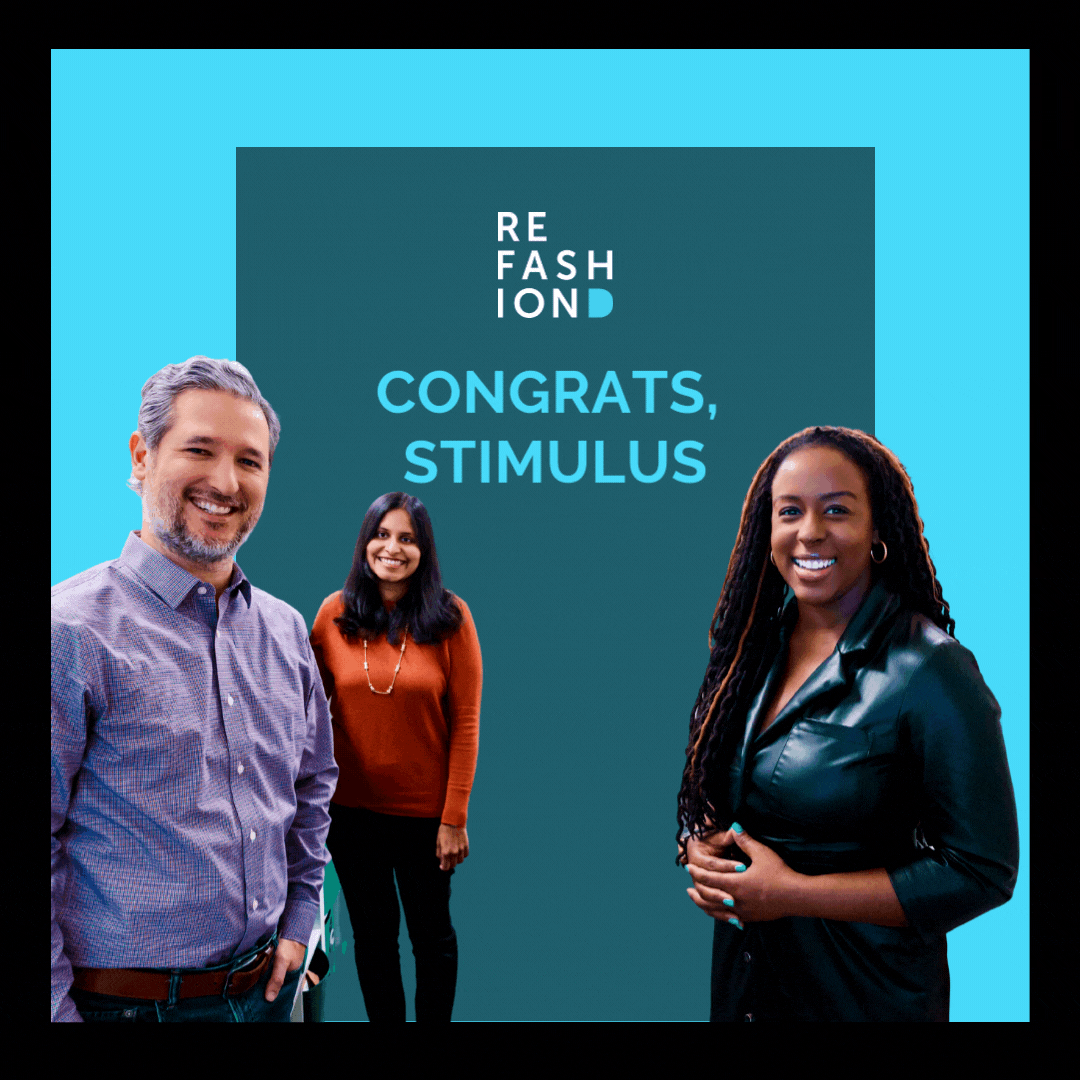 POTENTIAL CUSTOMERS ARE ACTIVELY AND DESPERATELY SEEKING SOLUTIONS
I have witnessed first-hand the anguish that organizations experience when sourcing and procurement are unable to fulfill their responsibilities – especially during a period of crisis; During the early days of the COVID19 Pandemic, starting in April 2020, I had the unique privilege of being invited to participate in a weekly update call organized by the National Association of State Procurement Officials (NASPO) as its members brainstormed ideas about how to source alternative suppliers for personal protective equipment (PPE) and other products.
Those conversations between civil servants from the public sector, academics specializing on the topics of sourcing and procurement from some of the nation's premier public universities, and executives from large, private sector corporations, gave me an intensive introduction to the problems in sourcing and procurement across the private and public sectors.
My contribution to those conversations was that of an early-stage venture capitalist interested in finding and funding startups that could solve some of the problems NASPO's members and partners are facing, and that they'd like to solve with new software products and services sooner rather than later.
Since launch, Stimulus has grown its revenue 4x year-on-year with customers in Healthcare, Education and Professional Services. The team has won partnerships with Microsoft (#BuildFor2030 – 1, #BuildFor2030 – 2), Google for Startups, and Salesforce – through which they have received non-dilutive capital and partnership resources. The projected customer pipeline suggests that Stimulus could grow revenues by up to 5x in 2022. Channel partners are an important part of Stimulus' marketing strategy as these will contribute meaningful growth in revenue through co-selling and co-marketing opportunities.
As we say at REFASHIOND Ventures, we are #ObsessivelyEnthusiastic about what Tiffanie and the rest of the team at Stimulus are building. Some of the other investors include Morgan Stanley, Darco Capital, Juno Capital, Gabriel Investments, Segal Ventures, Standing Oaks VC, Black Founders Matter Fund, and angel investors – including executives from McKinsey & Co, and Aramark.
We are encouraged that downstream investors have awoken to the opportunity in #SupplyChainTech, with the Wall Street Journal's Jennifer Smith reporting that Investors Are Piling Into Supply-Chain Technology, and Bessemer Venture Partners recently outlining and publishing their own #SupplyChainTech thesis in Roadmap: Supply Chain Software.
At REFASHIOND Ventures, we couldn't be more excited to back supply chain technology founders at the early stages of their journey to transform the way the world makes, buys, moves, stores, and consumes the products and services that we all need.